About us Boker Adventures Trekking and Safaris

OUR TEAM
Our staffs attend professional course every year during low season, which focuses on improving in first aid, mountain rescue, catering and how to handle customer complains if it happens. However, we believe in co-operation, Unity, Integrity, solidarity and patriotism.
Service and customer care.
Sincerity and integrity are our pillars for good services and customer care. We value all visitors regard their nationality, once you arrive on our hands you are already part of the family. We make sure we listen to you and make all possibility for your tour goal to come true. However, our team always put step down to ensure we offer what visitors need and beyond in all aspect of living that includes, Accommodations, transportations, tour and food. We are very kin and selective when it comes to service throughout the year.
From the beginning of the conversation, arrivals and end of the tour it's our responsibility to make sure you archive what you deserve with a good budget.
What You Can Expect From Our Kilimanjaro Guides
Many clients ask us – Can You Climb Kilimanjaro without Guides? The answer is no, it is not possible unless you are a professional trekker. This is because climbing this mountain requires special permits and certificates which is provided only to experienced guides and trekkers.
Boker Adventure's top priority is to provide High Safety Standards to all its clients. Our Mount Kilimanjaro Guides are well equipped to handle medical emergencies andcan identify and avoid potential hazards such as slippery trails and loose rocks. Below are few things to expect from our trekking guides:
Professionalism
Why choose us when you have so many options right? We understand your needs and therefore diligently work towards fulfilling your expectations and try and exceed them.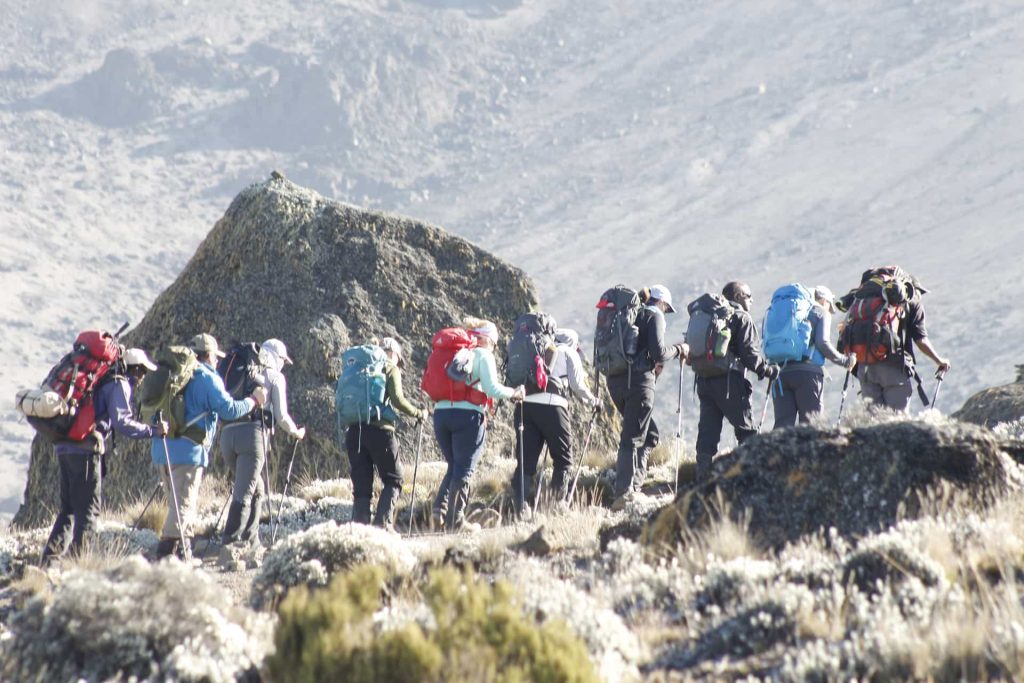 Boker Adventures is humbled to say the least in the amount of effort put forth our staffs that help us gain trust and excel at our services. While Climbing Mount Kilimanjaro our guides uphold a high level of professionalism and still manage to have fun with the clients.
Expert Ability
Your Kilimanjaro Guided Tours with our travel expert working on Mount Kilimanjaro for years are well trained and experienced. Acclimatisation on high altitudes and the challenging climatic conditions of Kili are some of the activities they have already mastered. These meticulous trekkers are sturdyand capable enough to help you Training To Climb Mt. Kilimanjaro if you need it.
Mountain Knowledge
We provide Kilimanjaro Local Guides who are well aware of general mountain facts as they have lived their entire life on the foot of Kili. They will tell you stories from their lifetime and how they have been coping with Kilimanjaro climatic conditions since childhood. They can also provide extensive details of Kilimanjaro flora and fauna as they are well acquainted with the geology of the place.
Our Cooks/Chef's
Our bush chef's work wonders in tough conditions. Whether in the dusty plains of the Serengeti or the summits of Kilimanjaro, these extremely diligent artists work wonders to provide you with fresh and tasty meals for days on end. Possible the least seen and yet hardest working these fine men cook up a storm.
Our guides have support teams of assistant guides, cooks and porters that we have assembled personally. We feel having control of our personnel assignments is the best way to make sure your mountain crew complies with our high standards. Through regular interaction, your mountain crew will perform at its best and offer consistent service trip after trip. We like for things to go smoothly behind the scenes so that our staff can focus on our most important asset – the client.
Because of our hardworking porters, all you need to do on your climb is walk. Porters carry the tents, sleeping bags, mattresses, food, water, cookware, gas, stoves, medical supplies, chairs, and tables – not to mention your camping gear. It is a tough job and anyone who has climbed Mount Kilimanjaro will tell you that their strength, skill and stamina are incredible.
Also most of our porters they can speak English so we recommend to talk with them, get know them, share stories, singing and dances together for Kilimanjaro songs.
Our Safari guides
All our guides are naturalists with exceptional experience and who know All Tanzania parks intimately, and have an amazing knowledge of the African wilderness and its people. Their appreciation of the diverse cultures of the world, and the needs of their guests allows them to deliver the ultimate safari.
Testimonies From Our Happy Clients
Since I read a lot about Tanzania i decided to put in my backet list for this year which I save and fulfill to complete my goal of visiting Tanzania.... read more

I arrived Tanzania early this august alone and try to check with the local tour operator on the internet and found Boker adventures. I requested for a joining group to Serengeti national park and Ngorongoro that departure on early august and lucky enough i got one.

The agent was very active in responding and looks very professional on how to organize the joining group because he was very transparent.

The Serengeti was amazing and Ngorongoro as well, i saw a lot of animals like zebras, antelopes, lions, birds and so many. I was so surprised to see so many people visit the parks. I asked, and been told its a high season, hahaha. The guide was also very professional and calm to make sure everyone in the jeep have enough time to enjoy their interest

The hotels in the park were so nice, clean and meals was actually so delicious than i was expected.

I wish to say thank you so much and i really appreciate Boker Adventures efforts for making sure i fulfil may goal.

I recommend this agency for the best service and kindness team.

Thanks
Robert

Journey05454956249


August 25, 2023

an honest or not honest business? - I wouldnt say this is an honest business as I booked a group tour with them and then once I arrived, they told me the rest of the group has... read more problems with their flights and I can go on a private tour& pay the tipping at the group price, sounded like a good deal? I then learned that the price I paid is actually a private tour price for most companies. This made me wonder whether there was a group tour at the beginning. Even for private tour, the price is a few hundreds dollars higher than some of the offers from other agencies. Just personal experience for reference.

peneloper895


March 13, 2023

Happy and Joyful trip in Tanzania - My family and friends highly recommend Tanzania for tourism. This was because of the experience and good time we had after been organized with local tour company Boker Adventures.

... read more /> Peter and the team worked so hard to make sure we had an amazing trip since we arrived in Tanzania. The hotel were great with good services all the time.

The guides very experienced and knowledgable with the nature. We spent enough time in each park Tarangire, Ngorongoro crater and Serengeti park. We saw all big fives close enough.

The Zanzibar part was awesome, the beach sand was white clean and enjoyable. Marijani hotel was the best since we had brilliant view at the ocean.

We highly recommend for safari and zanzibar tour with Boker Adventures.

Regards
Marcus

marcuslesney


August 29, 2022